Over the last 10 years, social media has changed the face of the internet, and as a result, the way your website needs to perform. Because of this, there's a lot that goes into building the right homepage for your business. Here are 6 Steps to Increase Your Website Traffic.
Make sure your website is up for the task
Socializing–Host a guest or Be a Guest
Email Lead Generation List
Make sure your website is up for the task
This should go without saying, but we're going to say it anyways. Your site needs to be up to date. This means, no broken links. And all the pages should be functional. Let's not forget, the PHP, database, and everything on the backend should be 100% functional. Don't forget, load time is critically important, more than you probably know. For instance, a site taking longer than 2-5 seconds is losing customers. Period. One study found that for every second lost in page load time, customer conversion rates drop by 7%–for every second. Imagine the financial impact to your business if your site takes 20 seconds to load. 
Here's a test so you can see how responsive your website is.
You also need regularly posted content. It comes down to the fact that you need to make sure your visitors know this page is relevant–that you are there. However, even with regular content, about every 5 years your website will need a complete overhaul. This is because technology is constantly updating and integrating differently with social media. As a result, these updates are critical to creating a stable business. 
In 2010, Google made website speed a factor in how your site is rated in a google search. In their own words:
"Speeding up websites is important — not just to site owners, but to all Internet users. Faster sites create happy users and we've seen in our internal studies that when a site responds slowly, visitors spend less time there. But faster sites don't just improve user experience; recent data shows that improving site speed also reduces operating costs."– Google
Simplify your message
This should be a familiar topic for anyone who's read our previous blogs. We're thinking of hosting a telethon where all proceeds go to businesses that struggle because they can't simplify their brand. What do you do for your clients? How do you help solve their problem? Why should they even care? 
Although the true numbers aren't clear, it's estimated that we encounter 6-10 thousand ads every single day. Cut the fat by making your business message simple and authentic. It should be clear on the first page what your business is and why they should care. 
Related Article: How Many Ads Do We See A Day In 2021?
Build out a sales funnel
Unfortunately, sales funnels get a bad rap because they simply sound like a trap. Business owners think they sound inauthentic or manipulative. But here's the secret: they aren't trap. A sales funnel is just the path someone takes before purchasing your product or service. First, where are they coming from? Second, how did they hear of you? And where do they go from there to learn more? Does it take them 17 steps before buying your product? If so, that's 17 different times they can walk away or get distracted. The trick is to make it easier for them. Cut steps that can lose your customers. Make your funnel short in length, but wider in diameter.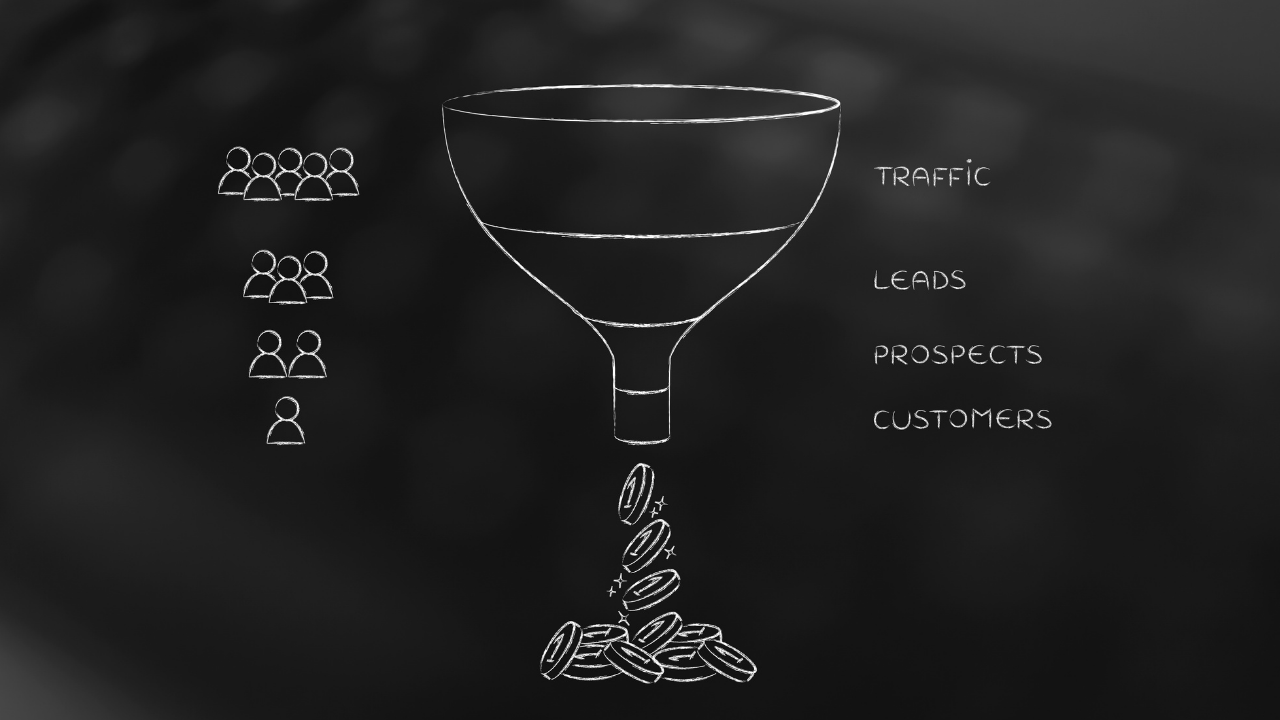 Craft Proper SEO 
Crafting on point SEO is a necessary skill, especially if your demographic is more likely to google your services then search on social media. As an visual, think of it as leaving breadcrumbs for potential clients. You'll need as many, visible breadcrumbs as possible. 
The better the SEO, the bigger the breadcrumbs. What does that mean? Start with your on-page content: perfect your Headlines, include relevant content, research keywords for your subject or industry, include internal links to other resources on your page, and link to external information.
Socializing–Host a guest or Be a Guest
Like any business, you need to be involved in networking. This is important on your website as well. To begin, hosting Guest Bloggers is a great way to introduce diversity to your page and show that you are actively engaged in the industry. Additionally, it makes your guest feel valued and they can help drive traffic to your website from their own page. 
Reach out to others in your industry: people you look up to or follow. Engage with them, tag them in related content, then let them know you are available to guest blog on their site. As a result, if they share your content then you are going to benefit. 
If your demographic is local, reach out to people in the community. In similar fashion, this same advice applies in real-life networking as well. Show that you are involved in the community or city. Participate in community issues. As a result, people will recognize you and see you as a stable figure and voice they can rely on. 
Email Lead Generation List
You would be surprised at the number of businesses who are not utilizing the vast list of emails they've collected over the years. It's completely untapped potential for clients. These people gave you their email address! Imagine if someone you knew was desperate to be in a relationship but refused to call anyone up from the collection phone numbers they have received over the last year. 
And if you are not already implementing a Lead-Generation tool on your website, you need to be. When you email these potential clients, make sure your content is valuable and relates back to your updated website. 
Branchout specializes in optimizing and updating websites. We've been doing this for over a decade. Contact us for a Free Consultation of your website. Our website service includes establishing a Secure Socket Layer for your website; this is an important security protocol that provides privacy, authentication, and integrity to your page. It's not easy to do if you are unfamiliar with the process. It's an important factor in how Google ranks your website.